Join the oldest and largest caving club in Scotland and enjoy many benefits
---
Caving meets and social gatherings
We have regular plans to meet and cave together, in small groups. Beginners are more than welcome and we encourage beginners to meet us before deciding to join us as a full member.
Members meet socially each week at a designated pub in both Edinburgh (Leslie's Bar on Ratcliffe Terrace) on Tuesday evenings and Inverness (The Phoenix Ale House on Academy St.) on just the first Tuesday of the month – both at 8pm. Here we can have a good blether about caving endeavours and planned excursions, keeping in touch with what is going on. The GSG also has a Facebook site which has up-to-date news of club activities; there is also a Private Members Facebook site.
Access to the club hut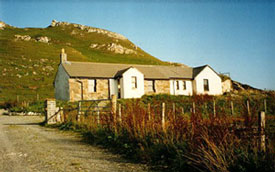 The Club Hut is ideally situated in the middle of Scotland's best caving area – Assynt. This is equipped with crockery, hot showers, a kitchen, fridge, heater, drying room, comfy bunk beds and parking.
​An additional asset is the superb view of Canisp, Suilven and Cul Mor from the conservatory. 
Click here to book a trip at the hut
GSG Publications and Library
The club produces its GSG Bulletin in March and October each year. Running to about 40pp, the Bulletin contains information about caving discoveries, cave surveys, details of areas of interest and additions to the club library, as well as 'caving ephemera'.

Lighter topics of general interest are brought to members' attention in regular GSG Newsletters which are emailed out approximately every three months. More immediate news is emailed direct to members by the Membership Secretary when required. Members also have access to an extensive archive of material in the club library, gathered from across the UK and beyond.
---
Interested in joining?
Fill out the information below to receive more information about the club and joining the GSG.